Ladies and Gentlemen, I present to you...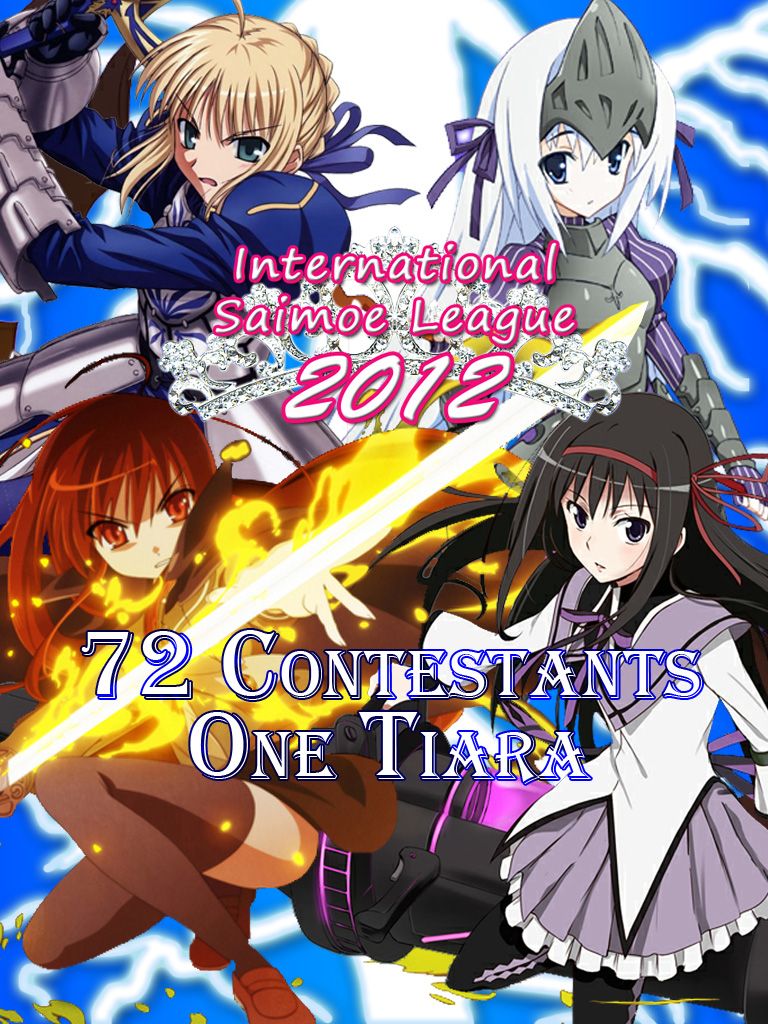 ISML 2012: The Video Game!
As usual, the title screen can be found
here
.
The
main menu screen
reveals the following. The functions are pretty much self-explanatory: single player is for a single player; multiplayer, two or more players, extra, all those special/extra things inserted in the game now in your control; settings, adjusting the game settings to your preference/style. Story mode has its own new feature, which will be covered later in this list.
For
Single player mode
, single player represents an arcade-style single payer mode where contestants battle a set number of opponents until reaching the "final boss" of the stage. Vs computer is you against a computer-controlled character at a set difficulty. Team battle is fighting against the computer with a set team of up to four characters. There is also an arcade version of this. Time attack is noting how fast you can defeat a set number of characters. Survival is seeing how many opponents you can defeat before your health runs out. Roulette 7 calls for seven girls battling for either a necklace or the tiara with the game starting with two characters fighting each other and another character will join in the fray after a set amount of time, fighting for the highest amount of victories to obtain the prize. The new added feature that is incorporated in the game is Mercenary. Mercenary is when you defeat a set number of "dummy characters" of increased difficulty per "wave". The player starts out with a few easy dummy characters one at a time. On the next wave, two dummies of increasing number will appear at the same time of increased difficulty. On the third wave, three dummies of increased difficulty and number, etc. The goal is to kill as many as you can before you run out of health.
For
Multiplayer mode
, vs player is you against another person. Fatal 4 way is a maximum of 4 mixed players and/or computers battling each other in either melee or team battles. Team battle, is a maximum of 4 mixed players and/or computers battling each other with his/her team. Again, up to four characters per team, and match could be either melee or teamed battles. Tournament is a single or double elimination style tournament with a set number of characters. Round Robin is a set of characters challenging each other at least once with the one with the most victories declared the winner. In the event of a tie, a sudden death match will take place to see who the winner will be. Roulette 7 is the same concept as before, now with more than one player added into the fray. Mercenary also has the same concept as before, this time, adding more than one player in the match. Of course, the amount of dummies per wave is multiplied by how many players are involved.
Story mode
is broken up into two sections. In Story, select any character, and follow the story of your chosen character as she ventures the world known as ISML. Create friends, defeat rivals, watch the drama unfold as your character goes through Regular Season and Post Season. Obtain all seven necklaces, and pave the path to the final match for the Heavenly Tiara. Every choice you make, every road you take, and every friend and enemy you make will decide what kind of a path your road to the Tiara would be. In Destiny, follow a set stroyline for several of the characters provided for selection. Relive the lives of eight characters as they tell you, through their eyes, what went down and what they have been through in their stay at ISML. The characters with a set storyline are provided
here
and
here
. A story mode for one character and a destiny mode for the same character are two different plotlines.
For
extra
, character bio is the biography of the character. Character video is a video of a said character after you have completed the story of the character in Story mode. Personal rankings allows one to see the data of what s/he has done, such as character usage, story completion of a character, etc. Camera allows one to take pictures of his/her match as the match progresses. Exhibition is where you can watch up to four computers compete against each other. Training is where you can practice using a character while having up to three "dummy" characters in an arena with you.
For
settings
, game setting allows one to adjust the settings of the game to one's preference such as game difficulty, match stipulation, etc. Save setting if if you wish to have the game saved automatically or manually. Control settings is where you can set your controls in the way you feel most comfortable fighting in. Language allows one to adjust the game to their own language such as Japanese, Korean, etc. Rumble & sound allows adjustments for the rumble and sound features of the game. Screenshots allows one to see the pictures that one as taken from the game and whether or not you wish to delete the said picture(s) or not.
The characters that you see in inclusion to the menu screen will include every unlocked character in the game in a random order. If you guys are curious as to what the game looks like, here are some screenshots of the game.
1
,
2
,
3
. If you do not like clicking around so many times, the images the everything that has a link is provided below the spoiler, if you want to follow it along that way.
Spoiler for Destiny Mode:
Spoiler for Unlockable Characters from left to right:
Finally, in games such as these, all of these girl will have finishing maneuver. Under the health bar, there would be an energy gauge that increases every time you attack your opponent or if the opponent hits you. You can activate the finisher only when the gauge is completely filled. The lower your health, the faster the gauge will replenish itself. New to this is something called Crisis. This is basically the stronger second finisher of the character if the character reaches 1/3 of its health left. Currently, I am stuck with some of the girls' finishers. If you have any ideas as to what they could be, feel free to say it here. Also, if you have other ideas of the girls' finishers that I have already wrote a finisher for, feel free to say it here as well. I may take it to consideration if I find it better than my original idea.
Spoiler for Finishers: Stella:
Spoiler for Finishers: Nova:
Spoiler for Finishers: Unlockable Characters: